Do you like to set trends? Do you like to shine in the crowd? Well, personalized jewelry is for you. Would you like to give the perfect gift? Again, this fashion jewelry is for you. That's right, personalized jewelry is the perfect gift, and this article will prove it to you.
Personalized jewelry makes a difference; they are garments that only you can wear. You can personalize one or all the jewels that you acquire in your wholesale jewelry; you can be the one who decides what that distinctive sign that you will incorporate into your jewelry will be.
Wearing bracelets with unique phrases, pendants with children's names and medals, or key chains with real carved drawings is a trend. One more expression of the time's individualism, in which consumption aims to be unique and special until the last detail of style seeks to respond to its own identity.
Advantages of Using Personalizing Jewelry
Strengthening personality.
We are what we do, say, and use. Wearing a personalized piece of jewelry tells a lot about us and how we think. A jewel accompanies our attire, but also our way of speaking, of moving, that is why a well-personalized jewel is the one who will look best in us.
Exclusivity and individuality.
Having a personalized jewel also allows you to have an exclusive jewel, which will attract the attention of those people who appreciate novelty and originality. For example, having a necklace with our family heraldry, earrings with our favorite object, or with our initials or with that fetish with which we feel identified, will be jewels that hardly someone else can have.
Mark your property.
When you personalize your objects, there is no possibility of confusion. Everyone will know that it is your property. If you left a ring on the desk, don't worry, everyone will know who the owner is very quickly.
They don't go out of style
It is a trend that has come to stay, although a few years ago it began to be seen slightly as a novelty, today it is entirely consolidated in the sector. Personalized jewelry identifies us; they are our eternal memories.
Some Ideas to Personalize Jewelry
You can personalize jewelry (and your most personal items) with anything, as long as it identifies you. Here are a series of ideas for you to value and start thinking about what identifies you the most.
Animals. Many people choose their favorite animal to personalize their clothes or to refer to their pet. It is also a way of telling the world you are a lover and protector of animals.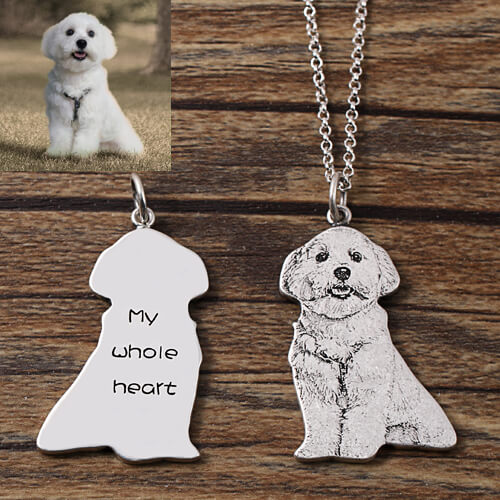 Objects. You might as well choose from a boat to a ballet shoe. Motifs with clouds, silhouettes, stars, ect., It all depends on your own story, and any of those objects represents for you or your family. Don't restrict your imagination. Think of flowers, colors, shapes, or design on paper, design your own identifying sign, free your creativity.
Phrases. Without a doubt, some phrases or words hide part of our history or future plans. Capturing it in a jewel indicates always having that event in mind or reminding us of that effort to achieve a dream. That is why personalized jewelry is so profoundly linked to emotions and feelings and becomes its emblem by excellence.
Chokers and Something Else
Before began as a fashion for chokers, now we can also see it in rings, earrings, bracelets, and sets of all of them, a world of possibilities has opened to make your name or your initials fashion.
Small slabs with engravings and pendants with letters and names are the authentic must-have of the moment, a trend also amplified by many celebrities who increasingly tend to wear this type of jewel, wearing the names of loved ones and especially their children around by the neck.
The name necklace is a perfect example of personalization representing each individual's desire for exclusivity and embodies its quintessence in an easy-to-wear accessory.
Bracelets with heart charms or figures with carved names or phrases are in fashion. It is a pleasure to admire them at some point in the day and realize how lucky you are and forget about difficult or stressful moments.
Conclusion
What is clear is that type of jewelry has come to stay, it is a benchmark in the sector for several seasons now, and each year it reinvents itself. With the arrival of all kinds of shapes and calligraphies, the wholesale jewelry market is going updating to bring you beautiful designs that allow you to personalize your jewel to create your own style.